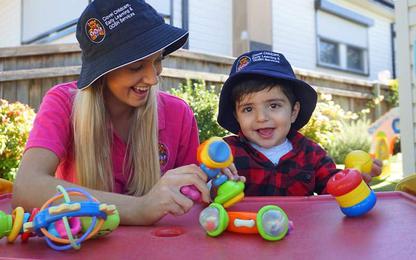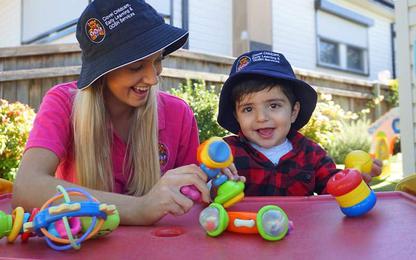 Included in fees
Morning Tea, Lunch, Afternoon Tea
About Clovel Cottage Nursery
WELCOME TO CLOVEL where we will work in genuine partnership with you to prepare your child for success. The latest brain research says start at birth so don't wait any longer. Give your child the best start possible at a Clovel Childcare & Early Learning Centre. Located at Merrylands/Granville, Constitution Hill/Wentworthville, Blacktown, Castle Hill, Liverpool, Ryde/Eastwood and South Penrith.
CLOVEL PROGRAM - At Clovel vital school and life readiness programs start at 6 weeks of age and enhance your child's personality and empower your child to reach full potential while all the time having fun. Clovel's early learning curriculum is a play-based model designed on what each child is good at, loves to do and is interested in. It is provided in a loving, caring, warm, homely and fun filled environment and incorporates the following:Literacy program, Reading program, Writing program, Numeracy program, Science, Computers, Performing arts curriculum with professional dance and singing teacher, drama and public speaking, International - Multi cultural program, School readiness and transition program, Individual and small group learning centres, A written report will be issued for school entry.
Clovel centres are unique and special places where children and their families can play and learn in warm, safe, secure and friendly surroundings. Our highly successful early learning program is based on the emergent curriculum model and the Early Years Learning Program incorporating each individual child's interests, what each child is good at and what each child loves to do. Our belief is that if individual children are doing something they love to do they will get better and better at it and their confidence and self esteem will soar thus encouraging them to aspire to greater heights � to fly with eagles rather than scratch with chickens and the world will be their oyster! We begin by always remembering the incalculable value for a child to have its brain wired in the early years.
The message then is 'do not let your child miss out, begin now'. Our early learning program is designed to ensure each child is recognised as an amazingly important individual. It is based on the principle that the whole child must be developed if it is to become a well adjusted member of our society. Thus we provide the environment and experiences which will enable your child to grow and develop physically, emotionally, intellectually, culturally and socially. Clovel's balance of structured and non structured play, explorative learning, personal choice and group participation, encourages children to develop as whole and complete individuals.
EDUCATORS/STAFF - At Clovel we believe our educators/staff members are the backbone to the caring, nurturing, developing and educating of your child, it is they who hold your child's future in their hands - for from six weeks to six years is the period when the foundation of your child's learning is created - when your child's future is determined. Research shows that by the time your child has turned 6 the academic level achieved and the career income stream attained in later life has already been determined. Clovel educators/staff are individually selected for their kind, caring attitude and warm friendly personality for each position at Clovel from a range of qualified and experienced candidates to ensure the achievement of our aim that our 'Clovel' children will experience the sense of love and security we believe is imperative to allow them to grow and learn to the best of their ability in their formative years.
All educators/staff at Clovel are either fully qualified with either Early Childhood Degree, Diploma in Children's Services, Certificate 111 or currently studying vocationally by correspondence while working in a full time capacity and being supervised by a qualified staff member.At Clovel we pride ourselves on the length of service our educators/staff members experience with us. Clovel success rests in part on our dedication to "growing our own educators/staff."
We have long term educators/staff members who started with Clovel as trainees, have completed their tertiary studies and now are leaders holding Supervisors positions in charge of Clovel centres. Our longest serving staff member has been with us for over 23 years.
GOVERNMENT FUNDING FOR PARENTS AND PAYMENT STRUCTURE -
At Clovel our main priority is to ensure that as many young children as possible have access to our unique high quality early learning program, Thus we always try to set our fees so that the viability of the centres are ensured while affordability for families is still achievable. Clovel is registered for Child Care Subsidy (CCS) which is a funding scheme provided by the Australian Government for families who attend accredited childcare services.
For further information please feel free to contact Maria on 9649 5544 or 0425 224 518.
Availability & Fees
Waitlist
Location of Clovel Cottage Nursery
69 Lisgar Street, Merrylands
Are you a child care centre? Chat to one of our product specialists to find out more
Claim Your Listing
Merrylands suburb information
Average cost per day
Kindergarten
2-3 Years
$105
National quality standard
Calculate your subsidy
Centres near Clovel Cottage Nursery
There are 3 centres nearby that Toddle recommends, with Mini Masterminds Guildford being our top recommendation.